The best advice I can give on how to properly care for a new tattoo is DO NOT USE FRESH TATTOOS Lotion! Most tattoo artists advise their clients to use a rich ointment during the first few days of healing, followed by an odorless and colorless lotion to help moisturize, protect, and prevent discoloration.
This lotion is relatively inexpensive and available at your local pharmacy. However, almost all of these lotions contain ingredients that have recently been shown to be harmful rather than beneficial to the health of the tattoo. You can navigate to afterinked to check and buy moisturizer for tattoo.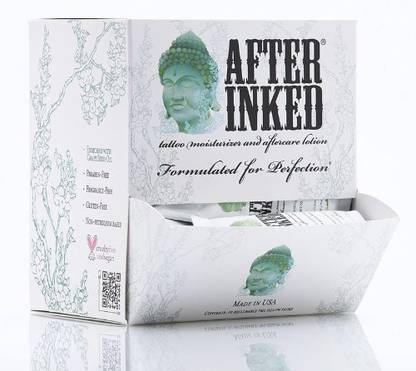 Image Source: Google
Here are tips for after-tattoo care:
1. Clean carefully, away from sunlight and heat – During the subsequent healing and treatment process, which can take several weeks, gently wash the tattoo daily with non-perfumed antibacterial body soap and lukewarm water.
2. Oil or oil-based ointments only for the first 3 days – Some recommend not using lotions at all during the first few days because of the high risk of infection. However, there are safe natural products that are very effective and will speed up the healing process.
3. Avoid Plasma Crust on Tattoos – On the first day, your tattoo will soak into a clear liquid called plasma. Try not to leave this crust on your skin. However, if it is, wash it off with lukewarm water.